ABOUT TIME - FRIENDS & FAMILY EDITION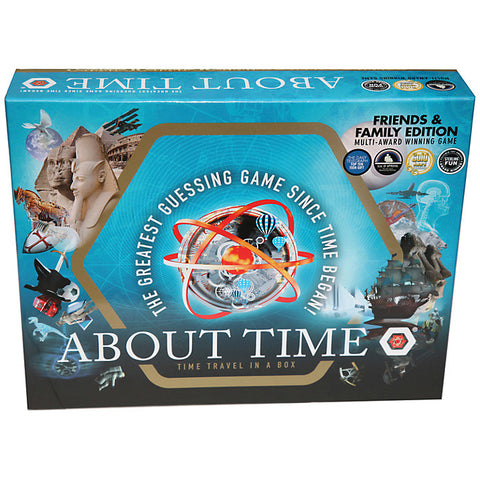 ABOUT TIME The greatest guessing game since Time began…
This award-winning multi-player quiz game. It's fast and infectious, with no waiting your turn as everyone plays in every round. Choose a great historical figure – Napoleon, Joan of Arc, Cleopatra or Mozart – and march onto the stage of history! You've got 30 seconds to beat your opponents by guessing the year of an event. There are no wrong answers as you only have to guess closer then the other players. Like history itself, the About Time board is littered with pitfalls and surprises. You can catch the Plague, be held up by Highwaymen or be challenged to a Duel and see your fortunes rise and fall...
About Time questions come in six categories – Heroes & Villains, The Arts, Everyday Life, Innovation, Word & Thought and State & Nation. From Ancient Greece to the Eurovision Song Contest, if it made the headlines or history books, we have it covered.
It's suitable for ages 8 to 80 – all you need is curiosity, fast fingers and a love of timeless fun!
About Time board game has won consistently great reviews and awards since it was launched on Dragon's Den in 2007.
For 2-20 players. Duration 30-90 minutes.
Purchasing Games
Purchase About Time from our secure online shop via credit card or by using your PayPal account.
If you have a discount code, you'll be asked to enter this near the end of the transaction and you'll be able to see your discount. Any questions, please email us on info@abouttimeboardgame.com