ABOUT TIME BOARD GAME: GERMAN EDITION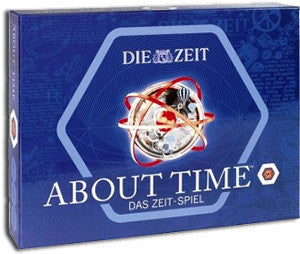 The German edition of About Time! Now available right here! About Time® joined forces with national newspaper Die Zeit and independent Munich-based publisher Arkaden to bring you About Time Das Zeit-Spiel. Selling over 15000 copies, the German version has all the great features of the original game with an emphasis on German culture, curated by Die Zeit and Arkaden's Tony Kammerl. Germanic precision was applied to the rulebook and simplified rules apply, with the Die Zeit Front Pages pre-shuffled into two beautiful question card packs.  Possibly the very best Edition of About Time ever produced?  If only my German were a little better....Free shipping in the UK but, with apologies to our overseas friends, international deliveries will include the lowest delivery charge we can find, to cover our costs of delivering your game safe and sound. 
For more information email info@playabouttime.com
Purchasing Games
Purchase About Time from our secure online shop via credit card or by using your PayPal account.
If you have a discount code, you'll be asked to enter this near the end of the transaction and you'll be able to see your discount. Any questions, please email us on info@abouttimeboardgame.com